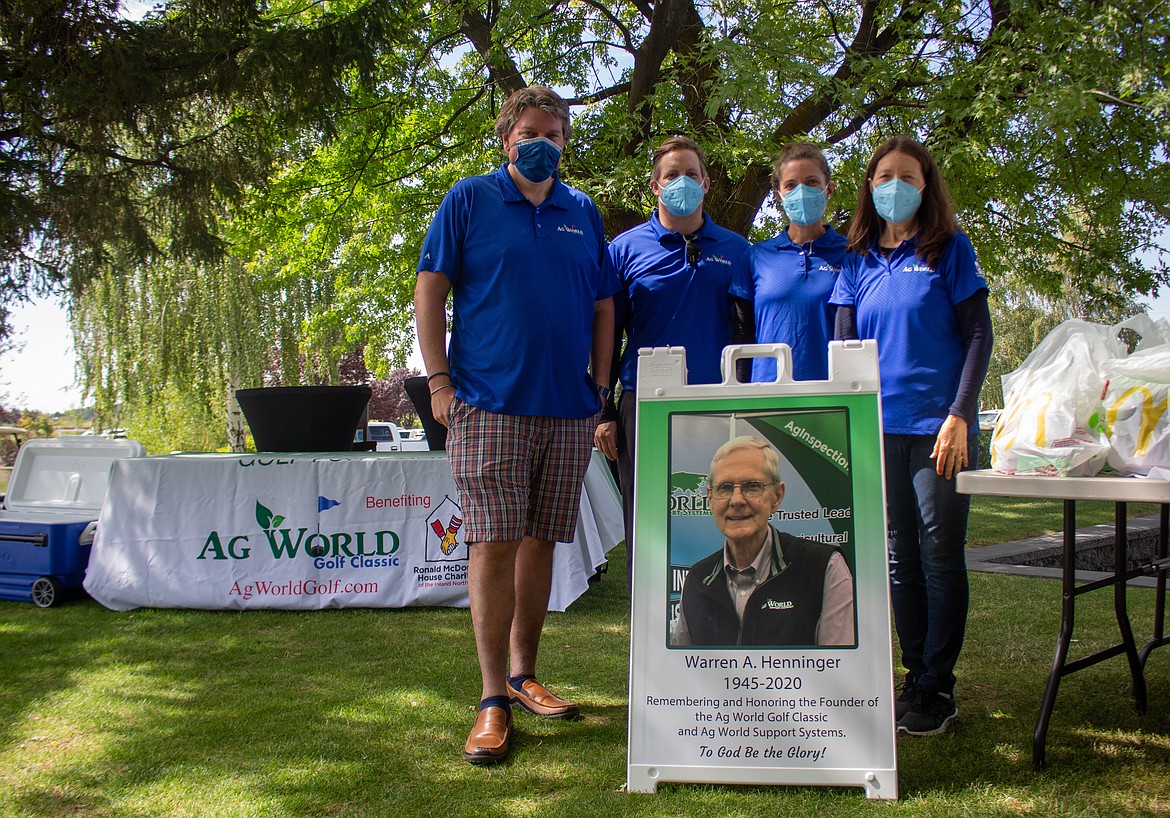 Left to right, Bryan Henninger, Adam Finch, Melanie Finch, and Judy Henninger made it a point to honor their late father, and husband, Warren Henninger, at the event he helped found seven years ago, the Ag World Golf Classic. Warren Henninger, who passed away earlier this year, founded the event to help raise money for the Ronald McDonald House Charities Inland NW.

Casey McCarthy/Columbia Basin Herald
PreviousNextBy CASEY MCCARTHY
Staff Writer | August 17, 2020 12:06 AM
MOSES LAKE — After some delays due to the coronavirus, the seventh annual Ag World Golf Classic was held at The Links at Moses Pointe on Thursday, bringing in more than $85,000. All of the money raised goes toward the Ronald McDonald House Charities of the Inland Northwest.
Bryan Henninger, president and CEO of Ag World Support Systems, said about 40 percent of the families that go to the Ronald McDonald House in Spokane are from the Columbia Basin.
He said the event was started by his father, Warren Henninger, who passed away earlier this year.
"This was a vision that my dad had on bringing the agricultural community together in a way to raise awareness and funds for the Ronald McDonald House," Bryan Henninger said. "We're excited, and we're hoping to clear, for seven years, $500,000 in donations for all that time."
Last year's tournament brought in more than $100,000, but, Henninger said, this year they hoped to bring in $70,000 with COVID-19 limiting some things. In the past two years the tournament has sold out. He said they had hoped to hold two events at two separate courses this year but were forced to cancel one event, in Kennewick, due to COVID-19 restrictions.
To ensure they could make everything as safe as possible, he said they "took over" the golf course for the day to help space out golfers. One hundred and forty-five golfers teed off from 7 a.m. yesterday morning up to the latest start around 2:40 p.m.
"We were concerned, we wanted to be smart, and we wanted to keep everyone safe," Henninger said. "We're glad that we're able to still have it here, and that we're able to do it in a COVID-friendly way."
The switch from a shotgun start to offset tee times is something that might keep going into the future in this "new normal." With the spaced-out starts, Henninger said it provided a bonus in giving vendors and sponsors more time to talk with some of the patrons coming out for the tournament.
Chip Hesse, president of Suberizer Inc. and one of the event's sponsors, was out talking to golfers on the fourth hole at Moses Pointe on Thursday afternoon. Hesse said his company has been a sponsor for the event for a few years now.
He said the event offers a great opportunity to meet people in addition to supporting the Ronald McDonald House.
"Every ag event that takes place to help provide support we're a part of, and it's great for the community," Hesse said. "It's great for the ag community,"
The additional time to spend with customers with this year's format was great, giving more time to chat with potential customers, he said.
"We'd be happy to do it either way because Ag World, they do a good job putting these events on and making sure everyone's taken care of," Hesse said. "They have been really supportive of us being able to come out here and get set up."
Judy Henninger, administrative executive with Ag World Support Systems and the co-founder of the event, said her late husband had the idea for the event after playing a similar tournament elsewhere with their son, Bryan Henninger.
She said Warren Henninger wanted to bring the event to the Columbia Basin, and after a manager's meeting seven years ago, the event was born. When the Ronald McDonald House came down for the first tournament event, she said they estimated bringing in $5,000 would be a successful day. The tournament brought in $32,000.
"It was an absolutely wonderful tournament to begin with and it's just continued to build and grow because I really think the cause is so important to people because it impacts the Columbia Basin," Judy Henninger said.
The care the Ronald McDonald House offers to families in support greatly touched her husband, she said. Having the event continue to grow even after he's gone makes for a wonderful legacy, she said.
"He would be so pleased to see that it just didn't go with his vision, that the vision lived on and continues to live on," Judy Henninger said. "Melanie (Finch) was a huge part in keeping this going this year because we weren't sure. She said 'I'm gonna push for it because that's what Dad would want.'"
Melanie Finch is senior manager of organizational development and communications with Ag World. She is Warren and Judy Henninger's daughter.
If anyone wishes to donate to help the Ag World Golf Classic meet their goal of raising $100,000 this year, donations can be made by visiting www.agworldgolf.com.