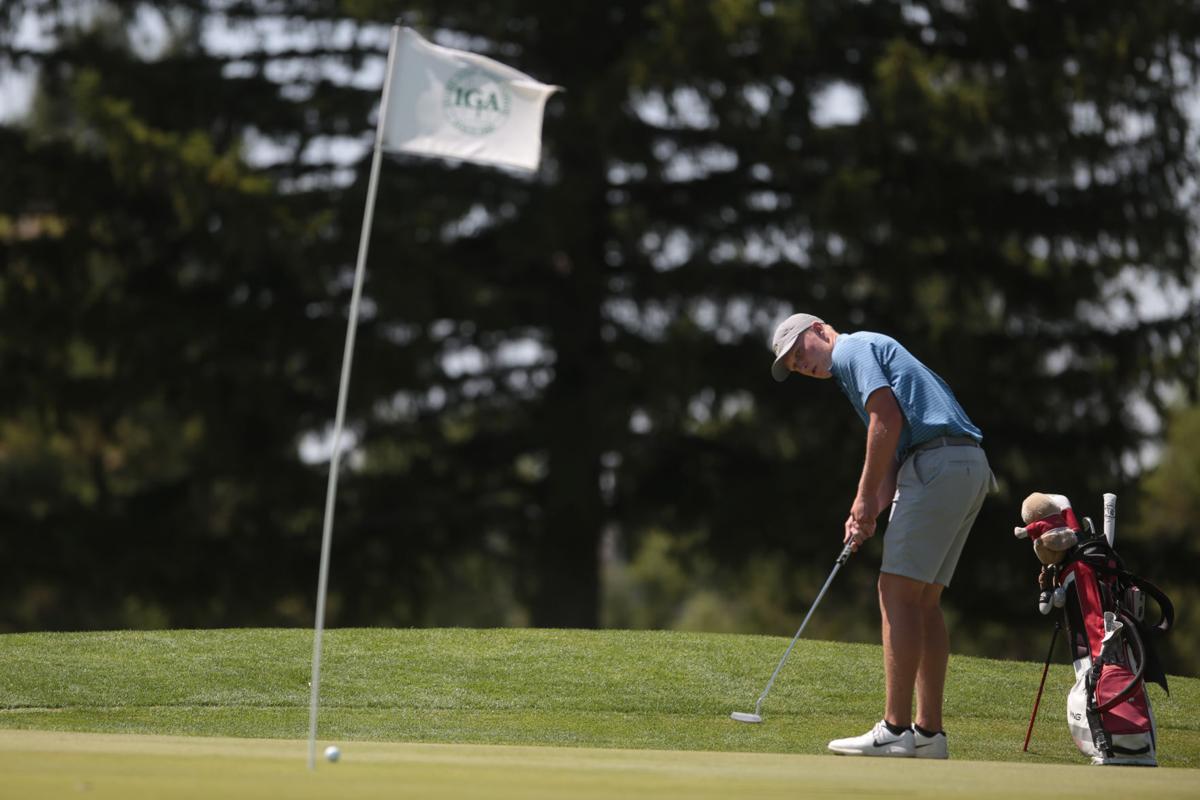 Idaho Golf Association Junior Amateur Championship
It was a windy Wednesday at Pinecrest Golf Course, sure.
But for one Rexburger, more breezy is more easy.
With a field-best 1-under 69 during the final round of the 2020 Idaho Golf Association Junior Amateur Championship, Rexburg's Zach Martin rallied to claim the runner-up trophy at Pinecrest — his third silver at the state junior am.
With wind game skills hardened on the fairways of his home track Teton Lakes, Martin has lorded over the "strokes gained in a gale" category for the better part of a decade.
"Yeah, it was windy, but it wasn't windy enough," Martin said with a smile.
Martin started the day in a three-way tie for fourth, but his 69 Wednesday was the low round of the day in the 15-18 year old division, leaving him with a 71-73-69—213 — two back of champion Lucas Rynearson of Fruitland.
Martin's final round scorecard was littered with circles and squares, with birdies at 1, 2, 7 and 10.
But it wasn't the big stick or the numbered clubs that got him there. It was short game.
"My greens in regulation number wasn't as high as I would like, but I was chipping and putting well all week," he said. "I just kept getting up and down."
Martin's runner-up finish is his final go as an IGA junior, as the Spokane CC Sasquatch commit will next have to take his amateur game to the IGA men's open.
Justin Anderson, on the other hand, has six more chances to win the state amateur.
Anderson, a 12-year-old who recently finished up his sixth-grade year at Rimrock Elementary, picked up his second IGA Amateur title on Tuesday, finishing with a two-day total of 66.
Competing in the 12-and-under division, Anderson has now matched his father Jeff, who also has two state junior amateur titles, including the overall title in 1996.
Justin birdied 11, 13, 17 and 18 in his title run, with the last three on that list coming in the Tuesday wind.
"My driving was really good, and my irons too," Justin said. "This was pretty cool. Now I want to go on and win another one, so I can beat my dad."
Challis High School junior-to-be Kelli Ann Strand took a one-shot lead after a Monday 72, but struggled Tuesday and Wednesday to place third at 72-75-76—223.
The reigning Post Register All-Area Girls Golfer of the year in 2018 won this event by 13 strokes in Moscow in 2019, but struggled in her midweek rounds at Pinecrest.
"I had some tough breaks, but I just didn't play my best golf," Strand said. "The last couple of days I have been hitting my driver well and have been putting OK, but my irons have really let me down all week."