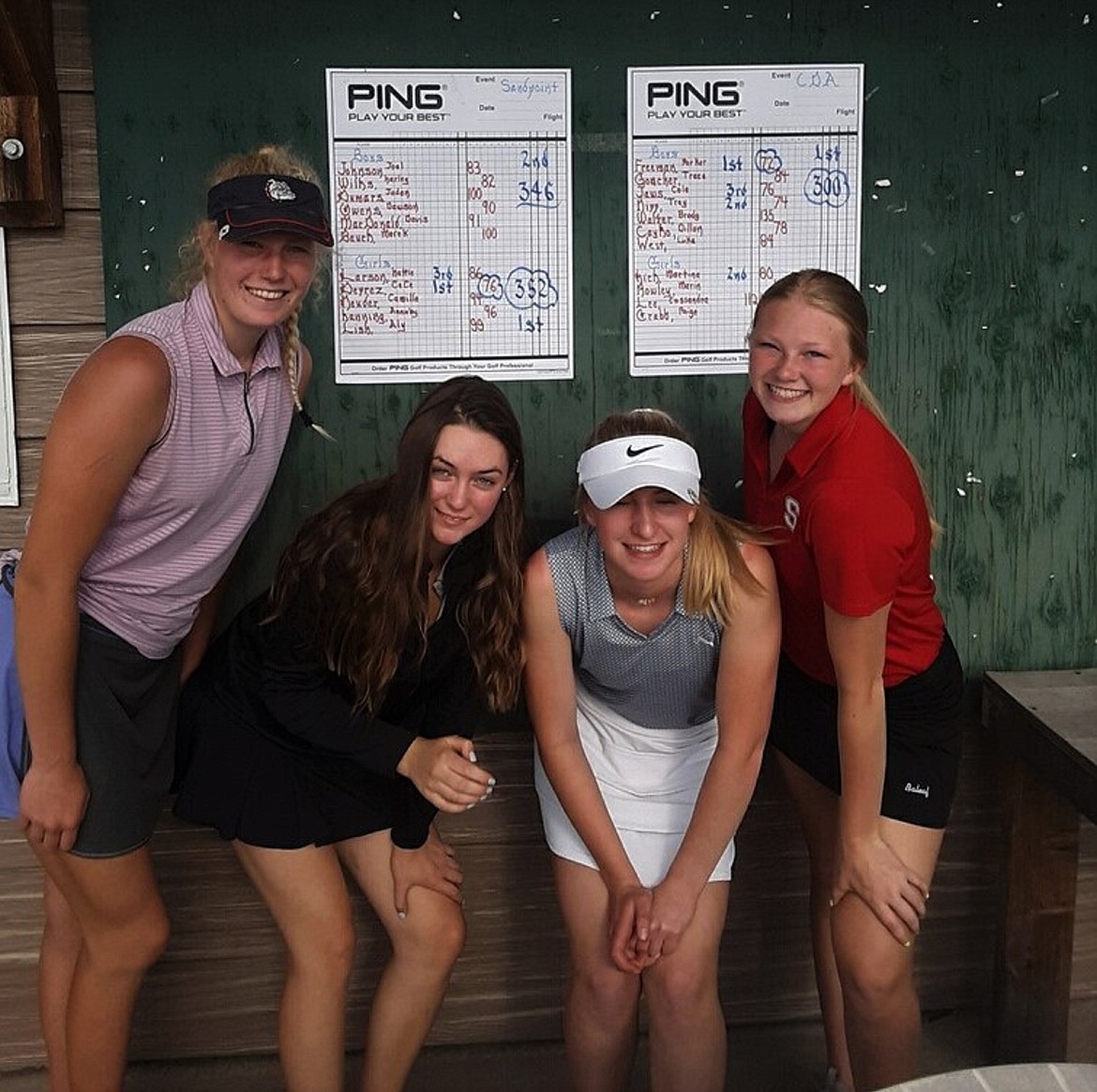 By Dylan Greene
Sports Editor | July 9, 2020 1:00 AM
POST FALLS — It certainly didn't count toward the high school season that wasn't, but the Sandpoint golf team got a taste of competition on Wednesday.
The Bulldogs took on Coeur d'Alene in a challenge match at the Links Golf Club.
Sandpoint golf head coach Michael Deprez brought six boys and five girls to take on the Vikings' seven boys and four girls.
The girls topped Coeur d'Alene by over 40 strokes while the boys couldn't keep up with a Vikings team that had four players shoot 78 or better.
Deprez was proud of the way his team performed.
"The swings are all there," he said. "I don't have concerns that dramatic with the way the kids are playing."
CeCe Deprez led all golfers on the girls side with a 76, including two eagles. Deprez said everything was clicking for his daughter.
"CeCe just lit it on fire today," he said. "It was just an easy day. She simply hit the fairway off the tee, hit an iron onto the green and then two-putted from 15-20 feet."
Hattie Larson took third overall with a 86, Camille Neuder shot a 94, Annaby Kanning recorded a 96 and Aly Lish, who will be playing golf at Spokane Falls this fall, tallied a 99.
Deprez said across the board, the girls have dropped five to 10 strokes off their scores from last year.
On the boys side, incoming senior Harley Wilks led the Bulldogs with an 82.
"He's been playing a lot and when you play that much, your feel and your touch gets better," Deprez said about Wilks performance.
Joel Johnson finished a stroke behind Wilks with an 83. Dawson Owens tallied a 90, Davis MacDonald notched a 91 and Merek Bauck and Jaden DuMars each shot 100.
Deprez said having a competitive match allowed each of the golfers to see what areas they need to work on as the summer progresses.
Next up for the Bulldogs is a "fake state" match with Moscow on Monday, July 27, at the University of Idaho Golf Course.
Deprez is treating this event like state for the girls. He's going to pick a score that he thinks would have won state this year and see how close the Bulldogs can get to that number.
If the surge in COVID-19 cases continues, those plans might be spoiled but Deprez just wants his team to get in as many meaningful rounds of golf as they can.
"We'll see how the chips fall," he said.
GIRLS
TEAM SCORES — 1, Sandpoint 352, 2, CDA 396.
SANDPOINT — CeCe Deprez 76, Hattie Larson 86, Camille Neuder 94, Annaby Kanning 96, Aly Lish 99.
COEUR d'ALENE — Martina Kick 80, Paige Crabb 199, Marin Rowley 104, Cassandra Lee 112.
BOYS
TEAM SCORES — 1, CDA 300, 2, Sandpoint 346.
SANDPOINT — Harley Wilks 82, Joel Johnson 83, Dawson Owens 90, Davis MacDonald 91, Jaden DuMars 100, Merek Bauck 100.
COEUR d'ALENE — Parker Freeman 72, Trey Dipp 74, Cole Jaws 76, Dillon Cayko 78, Trace Goncker 84, Luke West 84, Brody Walter 135.